Shawn James prepares to pack his foam padding used for his hips before a Thursday night drag show on April 21, 2016 at Yin Yang Night Club in Columbia Mo. James is originally from Blue Springs, Mo., and began making a name for himself in the drag community in January 2015. His first performance at Ying Yang as Veronika Versace was in July 2015 for their annual Pride Pageant, and has been performing there ever since.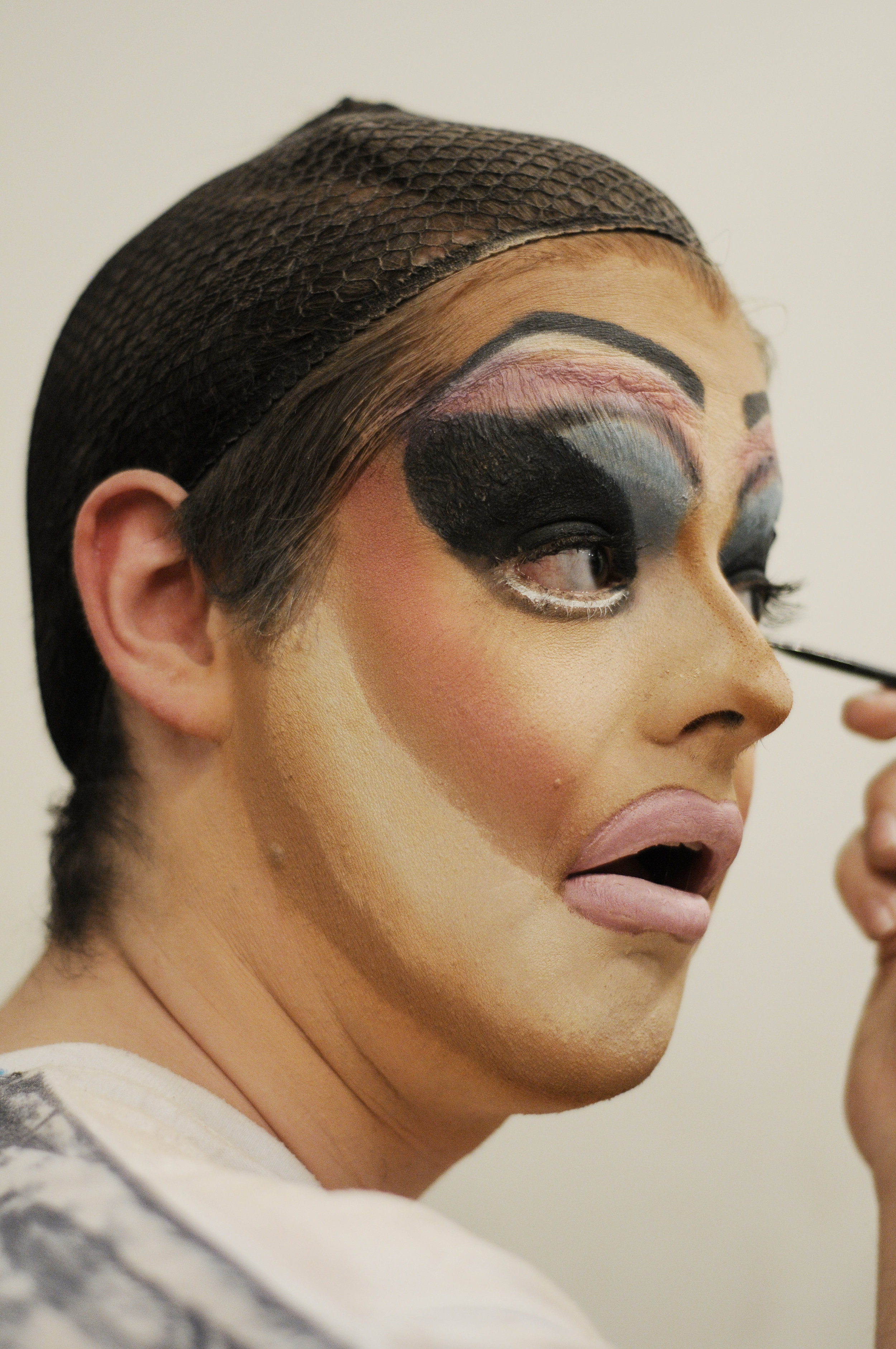 James gets ready for his Thursday night performance backstage at Yin Yang Night Club in Columbia, Mo. on April 7, 2016. He usually begins makeup and hair 3 1/2 hours before showtime, starting with covering his eyebrows by using glue and flattening them down so he can draw on a more feminine and dramatic brow. James then moves on to foundation and full coverage makeup, lips and finishes with fake lashes.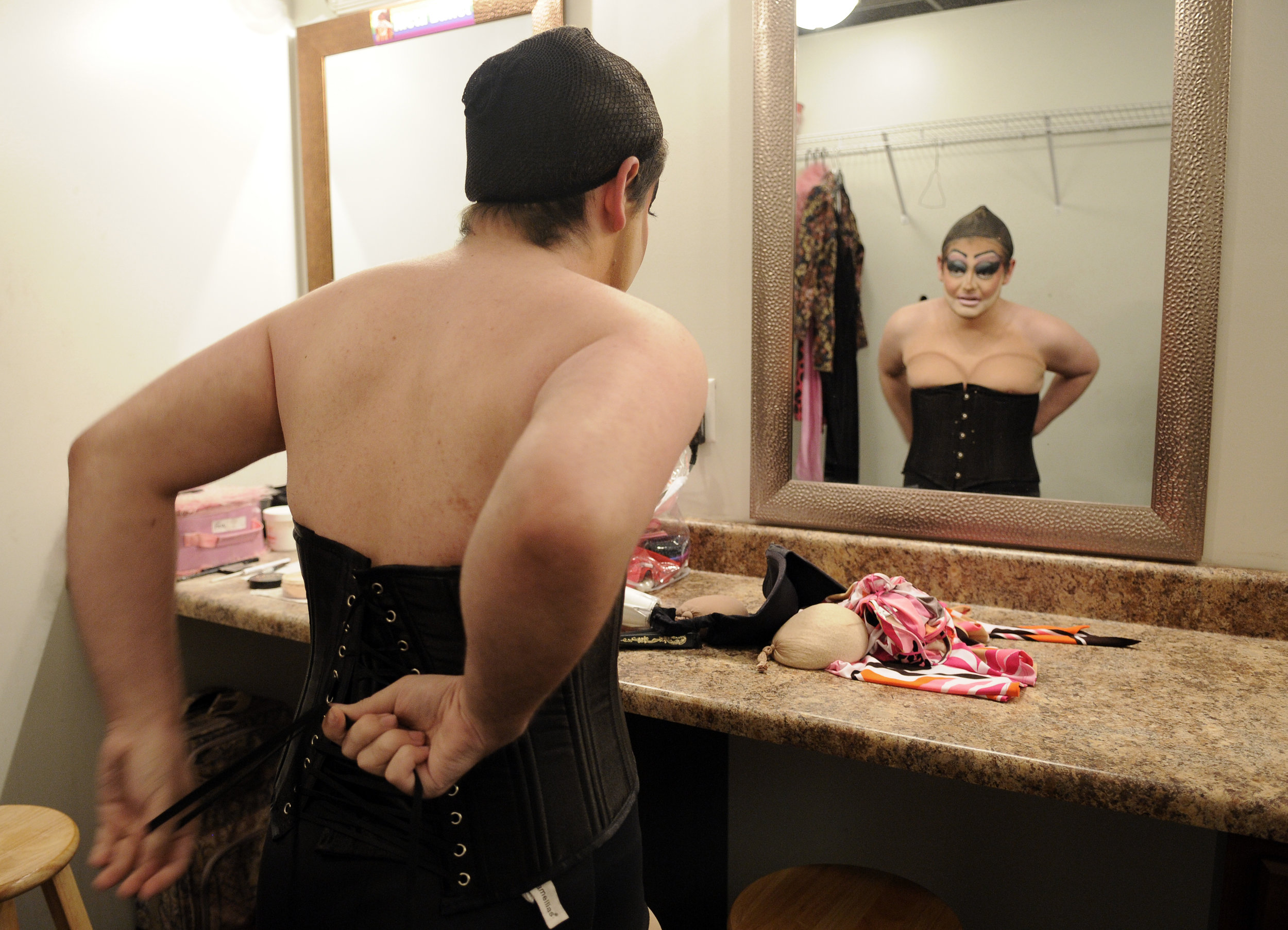 James ties up his corset to obtain a more feminine body shape before his Thursday night performance at Ying Yang Night Club in Columbia, Mo. on April 7, 2017. To further contour the body, James puts on two pairs of tights and adds padding to accentuate his hips and butt, then another pair of tights over. For some queens, this process takes the longest, but James finds this task as one of the easiest.
James' closet overflows with both feminine and masculine apparel. He tries to keep his everyday apparel separate but has found that Veronika Versace's outfits, wigs, and accessories have taken over. Being a Textile and Apparel Management major at the University of Missouri, James has been able to create some of his own outfits for Veronika. "She's not me entirely, but I spend a lot of my time in that world, whether I'm in the character or not, it's just my community for me."
Veronika Versace talks to her fellow queens backstage before her performance at Ying Yang Night Club in Columbia, Mo. on Thursday, April 7, 2016. Although James is an outgoing person when he is himself, he says he feels more relevant when in drag. "I feel like whenever I go out, you know, people want to come up to me and talk to me...they are so fascinated by me. Whereas, when I'm myself, it's just me. And that's 'cause normal people wouldn't want to have random people coming up to them all day long."
Typically, Veronika Versace performs around 3 routines per show at Ying Yang Night Club in Columbia, Mo. Her performances include dancing offstage with the audience and gathering tips along the way. James, however, does not enjoy dancing. But when he is Veronika, he has to dance and be the center of attention. "Sometimes I get really pessimistic and annoying, and for her, I want her to be happy and cheery, especially because I base her more cartoon-like. I want her to kind of have that extravagant personality."
Veronika Versace lights a cigarette outside Ying Yang Night Club on Thursday, April 7, 2016. James doesn't typically smoke, but Veronika Versace tends to. James compares Christianity being apart of someone's identity to how he feels Veronika is to him. "She's not this separate entity, she is a big part of who I am."